TROUT FISHING COURSES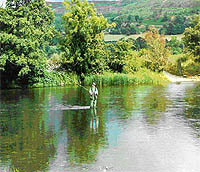 Welsh Dee Covering Trout
This course is designed to start off beginners or the more experienced fisher, During practical lessons we ensure that groups or more than 2 persons who are at different levels are taught together, without compromising your tuition.
Other available fishing courses ask specifically for details.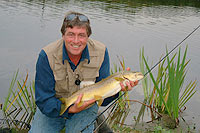 The Programme
May be either river or still water dependant on conditions.
We cater for Corporate days with luxury accommodation, Ladies individual tuition:- surprise your husband/partner, individual tuition, guiding, Salt water fly fishing, UK & abroad, ask for details. Bone fishing Page for details of species, Arctic circle for char again ask for details and see our page which is under construction.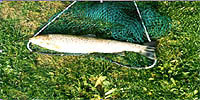 The first two days cover the entire course the third is a consolidation and summary of what you have been taught, and will include solving the weak points you have not been able to complete to your/our satisfaction.
DAY 1
(9.20am- 5.15pm)

Bob
Your Instructor:
Qualified STANIC & GIA. National Instructor fully insured child protection certified & first aid trained.
» Assessment of your casting and knowledge.
» Safety on the water.
» Fly fishing techniques.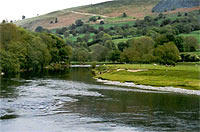 The Bench Pool River Dee
» Trout behaviour patterns.
» Casting demonstration and personal tuition. (Video analysis)
» Fly-fishing practise beginners and advanced.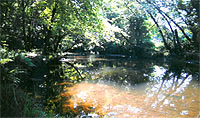 River Elwy
» Tuition in Wet fly & Dry fly techniques on lake, river or stream.
6.00 pm
» You may fish river or a still water your choice?
» Suitable tackle and demonstration.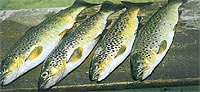 4 Lyn Elsi Brownies
Day 2
(9.00am- 5.00pm)
» Fly fishing tactics and river craft how to approach the river or still water.
» Video 45 minutes Dry Fly, Nymph, Wet fly.
» Discuss video and points raised.
» Casting tuition
» Coping with wind, banks and obstructions behind you.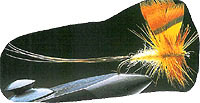 » Discussion and illustrated talk on Fly life, fieldwork on selecting the correct fly.
» Knots 4 important ones, which will see u through.
» Making up a leader.
» Fly-fishing tuition: on river depending on conditions wet, dry or nymph
6.00 pm
» You may fish the river or a still water your choice?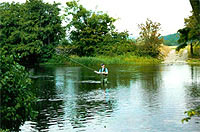 Casting to Trout under Bushes,
Welsh Dee
Day 3
(9.30am to 5.00pm)
» Fishing Day
» Casting demo, fault finding. Adjusting your casting for windy conditions
» Advanced casting roll and snake roll casts used when covering fish from difficult rear obstructions or wind problems.
» Fly fishing tuition on River or stream mending and drag efficient techniques.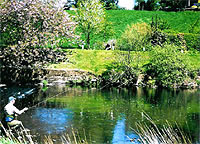 Covering trout in shallow tail of pool
using drag efficient air mend
5.00 pm
» Question time on specific problems.
6.00 pm
You may fish river or still water of your choice, or
if you wish we can discuss a general outline at the waters edge depending on what you or the groups experience is this is a flexible in the field operation and won't suit all parties but excellent for the more flexible and fu
TARIFF
1 day: £170.
2 days: £265.
3 days: £310.
Inclusive of course booklet, fishing equipment, Fishing Permits for the waters, lunch and refreshments.
Discount given for group bookings.
Permits are available on site or at your local post office.
Download or complete the booking form to reserve a space or if you need to ask
About anything specific call us on 0702 111 4766