SEA TROUT FISHING COURSE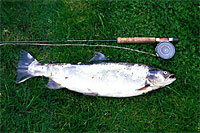 12.5lb beauty R.Clwyd
These 2-3 day sea trout courses are built with total flexibility in mind to assist and help beginners to the sport and experienced anglers who have not actually taken the night time pursuit up, as you may expect safety and behaviour on the waters are strictly controlled to avoid accidents occurring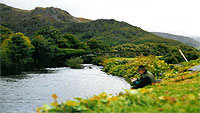 Keeping of the Skyline
The course depending again on the individuals skills and needs are condensed over the first 48 hours, third day consolidating what we have covered and to catch fish and have some fun, it will cover the casting techniques you will need to cover sea trout in awkward conditions on small overgrown rivers or simply to improve your range of casts.
Day 1
(tuition 12pm 4pm plus 2 hour walk of river identifying fish lies and observing fish) this will get your heart beating.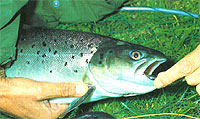 7lb fish caught at night
Meet your Instructor
» Overhead illustrated talk on Sea trout, identification, behaviour and tackle plus methods flies etc.
» Casting demo & tuition on the snake, roll, and single spey casts with a 10ft rod.
» Analysis of your casting. Video recording if you wish.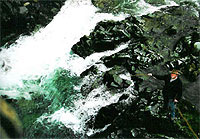 A fast run which holds sea trout
waiting to move up river
5.00 pm
» Walk River identifying lies and fish in pools. Approx 1-2 hours depending where fish are?
» Tackling up and fly selection for conditions.
» Pre fishing talks at riverside on safety and fishing tactics for specific lies and pools
Dusk onwards
3 hours personal tuition actually fishing at the same time. 3am stop or you may carry on until dawn personal choice.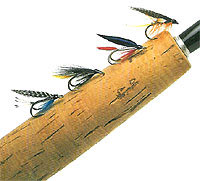 Local Killers (left to right):
Teal, Blue & Silver, Silver Stoat,
Bloody Butcher and Dunkeld
Day 2
(1pm to 5pm plus night fishing for Sea trout)
» Fly fishing Tactics for Sea trout Video and discuss tactics
» Advanced casting Roll, Spey casts consolidating first day
» Casting.
» Selection of sea trout flies for the evening's session.
» And walk of beats getting familiar with the river, and lies.
Evening
(start 1 hour before dusk finish 1 hour before dawn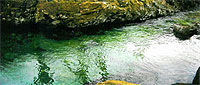 River Winion a good holding pool
For Sea trout' June onwards.
Sea is 6 miles away
» Half hour talk and allocation of beats. For the night. At 3am
» You can carry on, on your own till needs be.
Day 3
(1pm –5.30pm Plus night fishing for Sea trout)
» Casting tuition fine-tuning what you have learned, casting demo and tuition for roll, snake Roll, mending your line on the water, parachute cast, air mend, snake mend.
» Open discussion and balanced outfit selection.
» On the bank talk various methods of fishing the pools and runs when fish need stimulating, understanding the sea trout life cycle, and debate whether sea trout feed in fresh water?
Evening
» Walk river after dinner assessing the lies where you will instruct me in approach craft, and lies, this is a small exam ensuring that what we have taught you has sunk in.
Dusk onwards
» lets fish, ongoing tuition given until 3am.
Sea trout Course Fee
1 day: £185.
2 days: £285.
3 days: £350.
Discounts on groups of 4 are available POA.
Complete the booking Form to reserve your place. Or call on 0702 111 4746 to discuss a particular need.