GRAYLING FISHING COURSE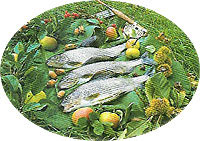 Not uncommon on Dee
Not many rivers hold Grayling and probably the Welsh Dee has the largest grayling per area of any river in the UK the world championship was held here 3 years ago. The course is designed for beginners and experienced anglers and is mainly, on the river bank course with a few hours classroom. But whatever the need anyone will benefit from learning and fishing for the' lady of the stream' subject to weather & prevailing conditions.
DAY1
» Meet your instructor who has fished for grayling or 15 years.
» Illustrated talk on the grayling behaviour and identification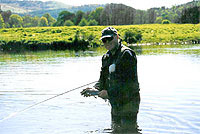 Small Dee Grayling
» Casting demo and tuition, Analysis of your casting
» Tackling up and fly selection wet, nymph and dry.
» Casting tuition and practise with wet, nymphs and dry flies
» Making up a team and leader. Knots x 4 useful ones to have.
» A balanced outfit and general tackle talk.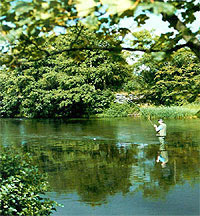 Casting to Grayling down river.
5pm
» You may fish the river until dusk.
DAY 2
» Video the fourth game fish actually filmed on the Dee.
» Discussion on tactics and approach on the bank
» Flies for grayling.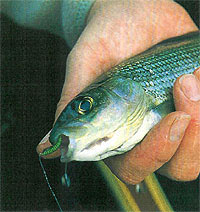 Took a Grayling Bug
» Fishing for Grayling and on river casting tuition coping with awkward and difficult conditions.
3.30pm
» Summary of course
5pm
» You may fish until Dusk on the River.
DAY 3
» Consolidation of techniques and river craft, flies casting tuition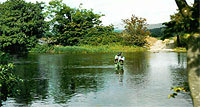 Grayling on
» Fishing on river continues.
5pm
» course over disperse or you may carry on fishing.
Course Fees
1 day: £170.
2 days: £265.
3 days: £310.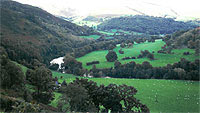 Dee Valley Gwynedd

Includes all water tickets @ £7-10.00 and all equipment supplied.

Discount given for group bookings.

Please see our booking page for details of how to reserve your place, or call me on 0702 111 4746 to discuss your particular needs.