FISHING IN MONGOLIA (1)
Taimen Fishing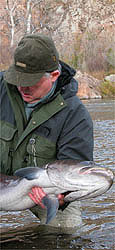 We have 120km of river from our camp located at Olon Gol, all within easy reach of the camp, this is a professionally run operation with a European camp manager, there are interesting fishing's close to the camp reachable by foot where you can dabble away if you want to cast an early or late fly! Small is beautiful and we cater for 8 guests at a time, 2 guests to 1 guide and jet boat. The rivers are fished in rotation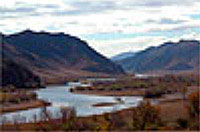 And we do not allow over fishing of pools, this is our secret to successful fishery management. Contrary to migratory fish Taimen are sedentary and should not be heavily fished. Due to the extensive river system we have and mobility gained by the jet boats and vehicles the guests are all guaranteed first class fishing in a pristine environment.
Target Species
Taxmen
Lenok Trout
Grayling
Amur (spotted) Pike.
Best Time of Year
May, September/October trips are limited.
Tackle Required
General Salmon Spinning gear and Fly 10' 8 weight rods with a mix of lines and some serious mouse pattern surface lures are a must big lures for big fish.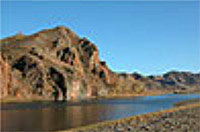 Country
Mongolia
Travel Arrangements And Accommodation.
Bob Glynn will lead this expedition, price includes return flights to Ullanbaatar. (UB)
Friday
Arrive at UB a member of our staff meets you at the airport, handles your luggage, and drives you to the hotel in town. The transfer takes about 20 minutes.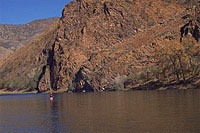 Saturday
Pick-up at the hotel in the early morning and transfer to the airport at (UB)
Check-in depart for Moron on domestic flight, flight time 90 minutes you will be met at Moron by a member of staff where we handle your luggage and drives you to the camp this takes approx 3 hours. Welcome drink, check in and briefing through our European camp manager.
Sunday – Friday
guided fishing for trophy Taimen, Lenok trout, and Grayling.
Saturday
Check–out, breakfast and transfer back to Morron overnight in (UB).

Sunday
Departure flight fro UltaanBaatar (UB).
Visa
You will need a tourist visa, to enter Mongolia, We can take care of this for you. Therefore we will need your passport for about 10 days. Please ensure your passport will not expire within 6 months after returning date from Mongolia.
Cost of Holiday and Duration and dates of trips in.
Included:
Double room with full board.
One guide jet boat per 2 anglers.
All transfers
Hotel accommodation in (UB)
Fishing Licences.

Not included:
Round-trip transportation between Home city/country, and (UB).
Camp Fee in addition to the price is a camp fee of $250.00US to be paid upon arrival. This fee includes transfer fee Morron-camp-Morron and all tips to the staff for there help and guidance.
Group Payments.
Payment Weeks 21/22: USD 8000 confirmation payment is to be made by 15th December. Final balance is due no later than 60 days before departure.
Weeks 37/41: USD 8000 confirmation payment is to be paid by the 1st February final payment is due no later than 60 days before departure.
If we don't receive your confirmation payment in time we will start to fill the week ourselves.
Payment for individual Bookings.
As per group booking USD $1500 confirmation payment balance as per group and specific dates.
Cancellation.
Deposit and Payment of the balance is non-refundable. It is therefore advisable to take out a travel insurance.
Flights.
From Europe Heathrow or Stanstead fly out twice a week or get a flight via Miat in Germany to (UB) we have allotments for each of our weeks with Miat.