Home Page
About The Fish That We Fish For
Newsletters
OUR FISHING COURSES
Trout Fishing
Sea Trout Fishing
Salmon Fishing
Grayling Fishing
Salt Water Bass &
Pollack Fishing
Casting Tuition
EXCLUSIVE PRIVATE FISHING
Click for Info & to Apply
FISHING HOLIDAYS
| | |
| --- | --- |
| | Alaska(USA), Argentina, Azores, Bahamas, Belize, Brazil, Canada, Canada, Chile, Congo, Costa Rica, Denmark, Egypt, Gabon (AFRICA), Gambia, Greenland, Iceland, India, Ireland, Kenya, Kola(USSR), Lithuania Mexico, Mongolia, Montanna(USA), New Zealand, Norway, Scotland (UK), Seychelles & Mauritius, South Africa, Southern Tanzania, Sweden, Wales(UK), Zambia, Zimbabwe |
Personal & Corporate
FISHING VIDEOS
_Click too See Our Video Collection
CORPORATE DAY
_Cost Effective Fishing
FISHING GIFT FOR B'DAY / XMAS
_For Partners & Friends
BOOKINGS
Click Here to Book a Course
ACCOMMODATION
Places to Stay In Bala
CONTACT DETAILS
Email:
Click Here to Email Us
Mobile:
+44(0)7795 214 934
Online Enquiries:
Click Here to Send Enquiries
Location:
Address, Map & Directions
SPONSORS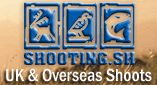 CASTING TUITION
Personal and Individual, and for Small Groups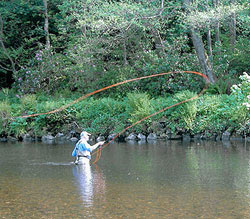 Individual Tuition on the River Dee at Bala or any still water we agree in North Wales a minimum of 3 hours charged at £30.00 per hour includes permit on the River Dee per person a 10 % discount will apply for each extra person and 20 % if three persons attend.
Discount given for group bookings.
Minimum 3 hours
Equipment supplied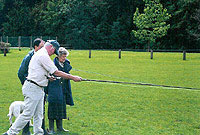 We advise for safety, glasses must be worn by all trainees.
To reserve your places see booking sheet at rear and we suggest you ring us to discuss what you or your groups personal requirements are going to be.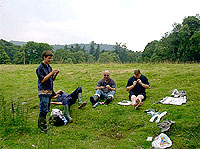 CASTING PHOTOS & TIPS
I hope you all will benefit from tips and photos here which give you a pre-course feel of what you will be doing on the Trout or Grayling courses held on the Welsh Dee. Click to see photos and tips.