SALT WATER BASS &
POLLACK FISHING COURSE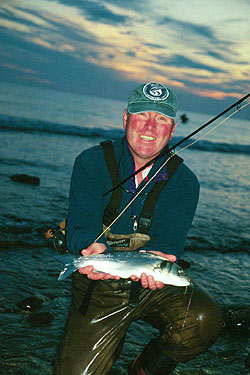 Our bass/Pollack fishing course is designed with fun in mind and can be exciting and explosive, they offer the fly fisherman an exciting challenge and what can be finer than to watch the bass chase your popper or fly through the surf, often the Pollack fishing is done from Rocks and a fast sink line is a must but its exciting as other species may be encountered.
Bass fight harder than any fresh water species, it does of course attract the strangest of gazes as it is rare to sea anyone fly fish in the sea in our country.
The course is 1/2 days and is for the experienced or can fly fish beginner looking for a new challenge.
Day 1
» Meet at the chosen beach with your guide and instructor an open discussion on tactics and what we are after. Assess tide times Line Tray or stripping basket
» Equipment we will use
» Setting it up leaders etc.
» Casting Demo overhead and single and double haul as we need to punch the line generally with wind in mind
» Safety
» Fishing and casting tuition
» Choosing specific flies, lures that work.
» Carry on Fishing tuition coaching given during remainder of day.
Day 2
» Assessment and analysis of casting.
» Fishing of Beach /rocks
» Fishing and coaching while fishing
» Fishing and coaching
» Summary
5pm
» finish
» You may carry on fishing as long as you want.
Course Fee
1 day: £170.
2 days: £265.
3 days: £310.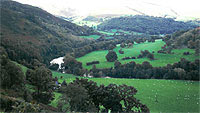 Dee Valley Gwynedd
Includes all water tickets @ £7-10.00 and all equipment supplied.
Discount given for group bookings.
Use of equipment, lunch refreshments etc. No permits required as Sea or Estuary.